Clinical Services:
Intensive Healing through

Clinical support
The clinical program at La Europa provides intensive services to help each student experience healing. We use a combination of insight-oriented therapeutic approaches, cognitive behavioral therapy, expressive therapy, dialectical behavioral therapy, radically- open dialectical behavioral therapy, family systems therapy, and trauma-informed care.
We offer clinical support in the form of individual therapy, family therapy, and group therapy. Each student is assigned a primary therapist upon admission that is predetermined by our team based on the needs of each individual student.
Our Clinical Services
Individual Therapy
Students receive up to 90 minutes of individual therapy per week. Individual therapy helps our students discover new ways to understand their challenges and develop new skills with their primary therapist.
Family Therapy
Students and their families receive up to 90 minutes of family therapy per week. These sessions provide families with the opportunity to work through issues together to heal and gain skills as a family.
Group Therapy
Group therapy empowers our students by fostering emotional processing, and mutual respect. We offer daily sessions Monday to Thursday, encompassing both traditional and expressive arts therapy.
NeuroFeedback
Neurofeedback is a method used to assist our students to control their brain waves consciously. Students receive 3 brain maps and 40 nuerofeedback sessions while they are enrolled at La Europa.
A Team Approach:
Comprehensive Care through a Team Approach
At La Europa we use a team approach to treatment to ensure that comprehensive care is being provided. Each student is reviewed by our treatment team twice a month. Extra meetings are scheduled with the team as needed to help students move forward. Our treatment team reviews a student's goals and objectives, their response to treatment and progress in the program. We also encourage students to reflect on their progress, receive valuable feedback, and adjust their direction for the future if needed.
At La Europa we use a team approach to treatment to ensure that comprehensive care is being provided.
Our treatment team includes:
Parents
Primary Therapist
Psychiatrist
Clinical Director
Residential Director
Academic Director
Expressive Therapists
Recreational Therapist
Team Leaders from the residential staff
Student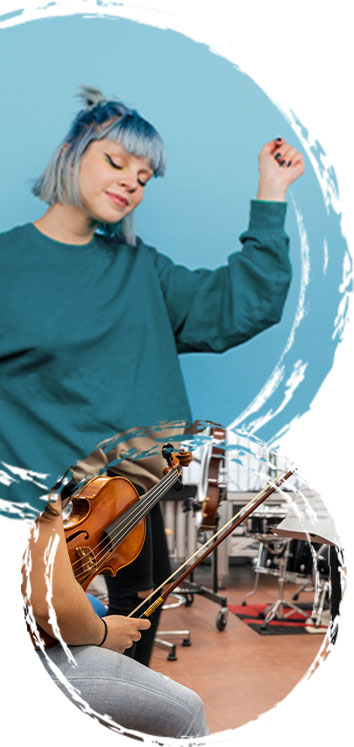 Expressive Therapies
Expressive Therapies Reach Beyond Words
Parents often wonder how La Europa Academy will be able to impact their child and create change. Part of the answer lies in the ability of the expressive therapies to reach beyond words. Students who have been involved in regular talk therapy often learn how to avoid talking about and dealing with issues that are emotionally laden. Expressive therapies allow each student to explore themselves through a variety of modalities that can create a bridge around the student's defenses. La Europa Academy offers a plethora of expressive therapies that are provided by master's level clinicians who are board-certified or specialize in their specific expressive modality.
Art Therapy
This modality, which integrates visual and verbal processes, allows students to explore their patterns in a concrete and changeable way. Art therapy allows our students to express those feelings that they struggle to verbally express. Instead, they can talk through an image they have created.
Music Therapy
Music therapy is the clinical use of music to accomplish individualized goals such as reducing stress, and improving mood and self-expression. Music therapy experiences may include listening, singing, or composing music in addition to playing instruments.
Dance/Movement Therapy
This type of therapy is used to deepen awareness and create insight into many issues with which students typically struggle including body image, self-esteem, emotional dysregulation, and trauma.
Recreation Therapy
Our Recreation therapy groups are not just playtime! Students take part in directed activities that expand their problem-solving, relationship skills, group dynamics, and individual awareness. These are not just recreational outings but true therapeutic experiences designed to deepen awareness and insight.
Sand Tray Therapy
Developed from the principles of play therapy, sand tray therapy uses a wide variety of figurines and symbolic images to help participants explore various topics. Participants create their own sculptures in the sand, examine interpretations of their sculptures and receive feedback from the group.
Psychodrama
This expressive therapy approach allows students to act out past experiences, interpersonal conflicts, internal struggles, or future projections of events. Psychodrama helps students connect with feelings, re-evaluate situations and relationships along with practicing new skills.
Equine Therapy
Equine Therapy is based on the concept of building connections with the horses. Students learn to build connections, trust, and confidence with these incredibly intuitive animals. Horses give a completely honest reflection of what's happening internally with a teen.
❮
❯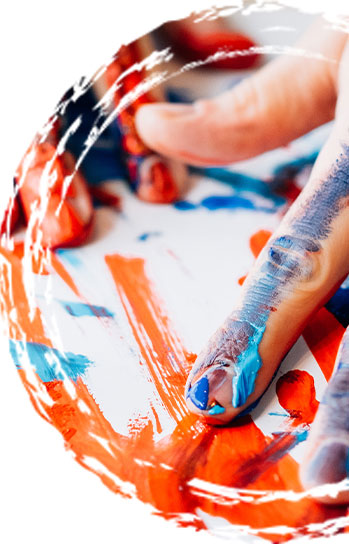 DBT
What is Dialectical Behavioral Therapy, and How is it Used at La Europa Academy?
Dialectical Behavioral Therapy (DBT) bridges our clinical and residential programs at La Europa. DBT is both a philosophy to help view students' challenges from a functional perspective and a structure that helps staff move students toward positive change. Insight-oriented therapy helps our students learn about themselves and have a deeper understanding of what needs to change. Yet most people struggle to convert insight into action. DBT helps our students translate their insight into concrete skills to change behavior.
The DBT philosophy is based on a dialectic frame of reference. A "dialectic" is a tension between two points of view that appear to be in opposition and in which there is no "right" answer. For example, in residential treatment, a dialectical dilemma occurs between providing enough structure for the students to help them "contain" their emotions and behavior but enough freedom to explore, grow and practice new skills safely. A dialectical approach to therapy means that the treating professionals attempt to create a synthesis between the students' need to change and their need to accept themselves. This approach is important for helping the treatment team and the student not get stuck in a negative behavior cycle but rather focus on understanding behavior, recognizing incremental positive changes, and moving forward.
Why is DBT helpful?
The behavioral aspects of DBT help students learn to break behaviors into smaller action steps and identify and practice effective skills to manage behavior and emotions. The structure of DBT increases the students' chances of effectively transitioning home by providing a practical, in-the-moment understanding of how to use skillful behavior and translate insight gained in therapy into action!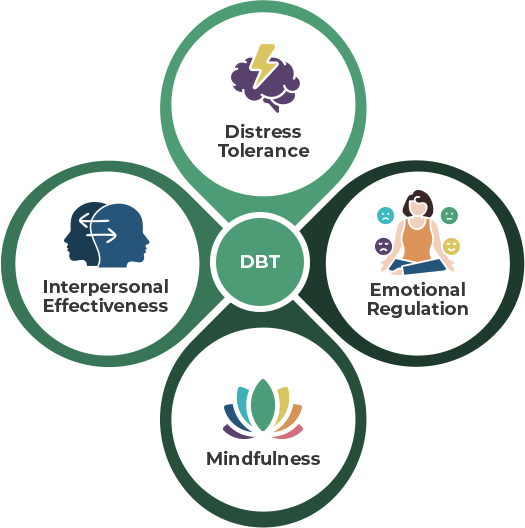 What type of DBT activities do we use?
DBT Skills Group
Students are taught and practice the four DBT skills of mindfulness, distress tolerance, emotional regulation and interpersonal effectiveness. Staff are trained to coach students in skill use on a daily basis.
Diary Cards
Students can complete a daily diary card to help gain awareness about certain behaviors they are working to change and feelings they are learning to manage more skillfully.
Mindfulness Group
Students attend a DBT mindfulness group in which they have an opportunity to practice mindfulness skills in a more concentrated format. Mindfulness is a core DBT skill because it fosters the awareness of thoughts, feelings and behavior necessary to make changes.
Behavioral Chain Analysis
When a student is struggling to extinguish an ineffective behavior, a behavioral analysis is undertaken with the student's therapist to help the student identify triggers, thoughts and feelings perpetuating the behavior. This helps the student and therapist see where new skills may be applied or other changes made to provide the student with more options for engaging in effective behavior. Insights gleaned from Behavioral Analysis are shared with the residential team so that interventions can occur in conjunction with behavior in the moment.
DBT Coaching Group
Students meet with their therapist and members of the treatment team to receive additional support. With coaching from this team, a student will establish specific things to work on to improve their skill development and the ongoing use of those skills.
Therapeutic Interfering Behavior
Students and treatment team identify therapy interfering behaviors that are keeping the student from fully benefiting from therapy and focus on these behaviors. Students identify weekly targets to help them understand and extinguish therapy interfering behaviors.
DBT Parent Support Group
We offer a DBT Parent Support Group that meets via webinar every other week for parents to learn about DBT and practice using DBT interventions while getting support from other parents.
❮
❯
Trauma Informed Care
We Focus on Healing from the Roots
We believe it is important to consider past trauma and coping mechanisms when working with students. We focus on healing the roots as well as the causes of a student's problem behaviors rather than just focusing on their behavior alone. Most of our students have experienced some type of trauma, whether large or small. When we understand how traumatic experiences and traumatic stress may impact our students, many things are likely to turn out better. Our clinical team is trained in different components of trauma-focused treatment. Our residential staff are taught about trauma and provided skills to support a student who has a history of trauma. We strongly believe that expressive types of therapy are very helpful with our students, especially as we focus on trauma and all its many aspects through our clinical program. La Europa is focused on helping those who have experienced trauma.
We use a variety of different methods to help our students heal and move forward.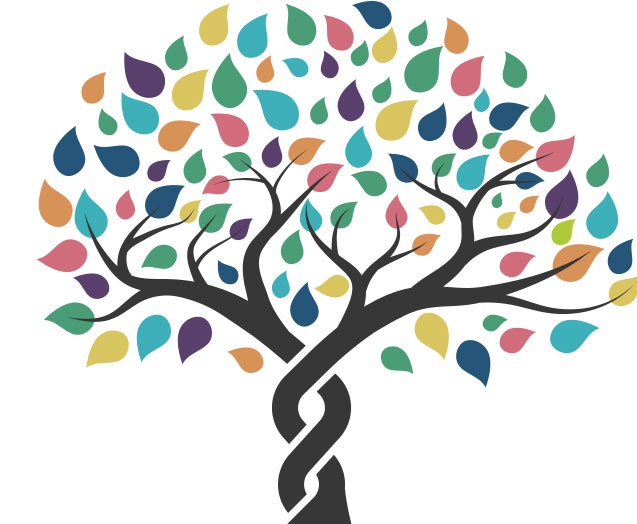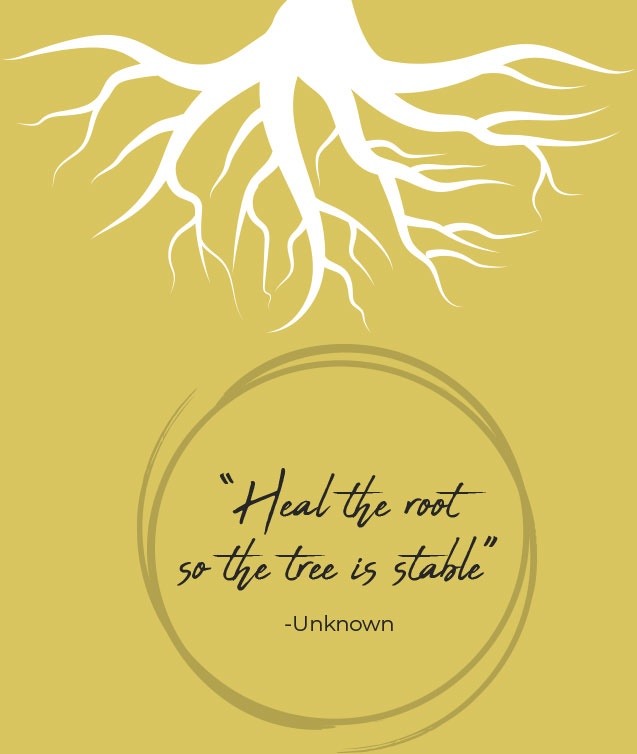 EMDR
employs a body-based technique called bilateral stimulation during which a therapist will guide a teen through eye movements, tones, or taps in order to move a memory that has been incorrectly stored to a more functional part of the brain.
Brainspotting
Using bilateral sounds and fixed eye positions - brain spotting engages deep parts of the brain to release stored traumatic memories and experiences. Specific eye positions each link to their own "brainspot," an area of the mind that retains thoughts and emotions. Individuals fixate on troubling brainspots to uncover hidden mental challenges. Brainspotting works with the limbic system to help the body process past trauma while also calming the nervous system when these negative emotions are triggered.
Trauma Group
In a group therapy setting, students who have experienced trauma may be able to more easily recognize and validate what another student is going through because of very similar experiences.
Trauma Sensitive Yoga
The goal of trauma sensitive yoga is for trauma survivors to develop a greater sense of the mind-body connection to help ease a student's traumatic experiences and gain a better understanding of their own bodies.
Parent Involvement
We Love When Our Parent Get Involved!
Research demonstrates that one of the keys to the success of adolescent treatment is parental involvement. We invite parents to participate in the treatment process in a number of ways.
Weekly Family Therapy

Via videoconferencing for 1 ½ - 2 hours

Parent Workshops

For two days each quarter (dates are established well in advance). These workshops include a day-long multi-family group with experiential therapy; a parent support group and a parent-teacher conference.

DBT Webinars and Parent Coaching Support Group

For parents to learn, practice and integrate the same skills their child is learning.

Regular webinars

On a wide variety of topics in which parents can participate if interested.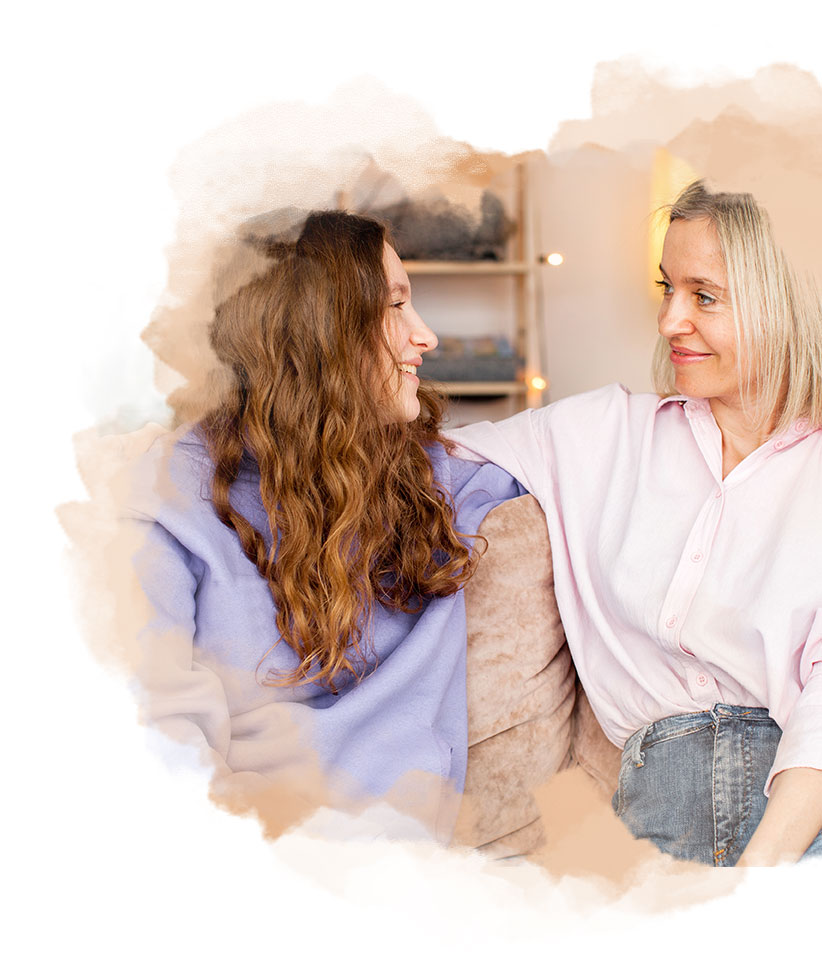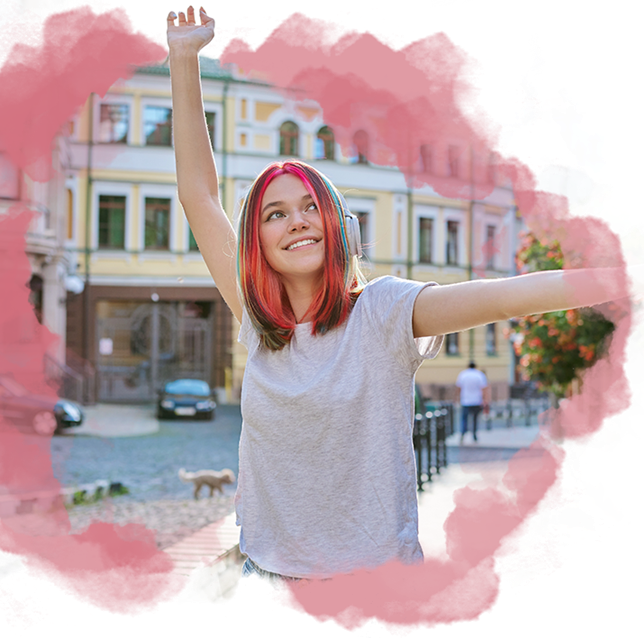 Medication Management
Medication Management Matters
Psychiatric care and the monitoring of the effectiveness of medication are important components of effective treatment. La Europa Academy has three psychiatrists that work with our program.
The psychiatrists meet with each new student as soon as possible after enrollment and complete an initial evaluation. Medications are reviewed, and the student's current medication regimen is discussed with parents.
Changes to medications are usually not made for the first 30 days while the student is settling in. A student's Psychiatrist collects information from the therapist, the residential team, and the school before making any recommendations for medication changes so they can get a full profile of how the student is doing.
La Europa Academy has onsite nursing available. The nurse accompanies the psychiatrists for all meetings with students to ensure a smooth transition with any medication changes.